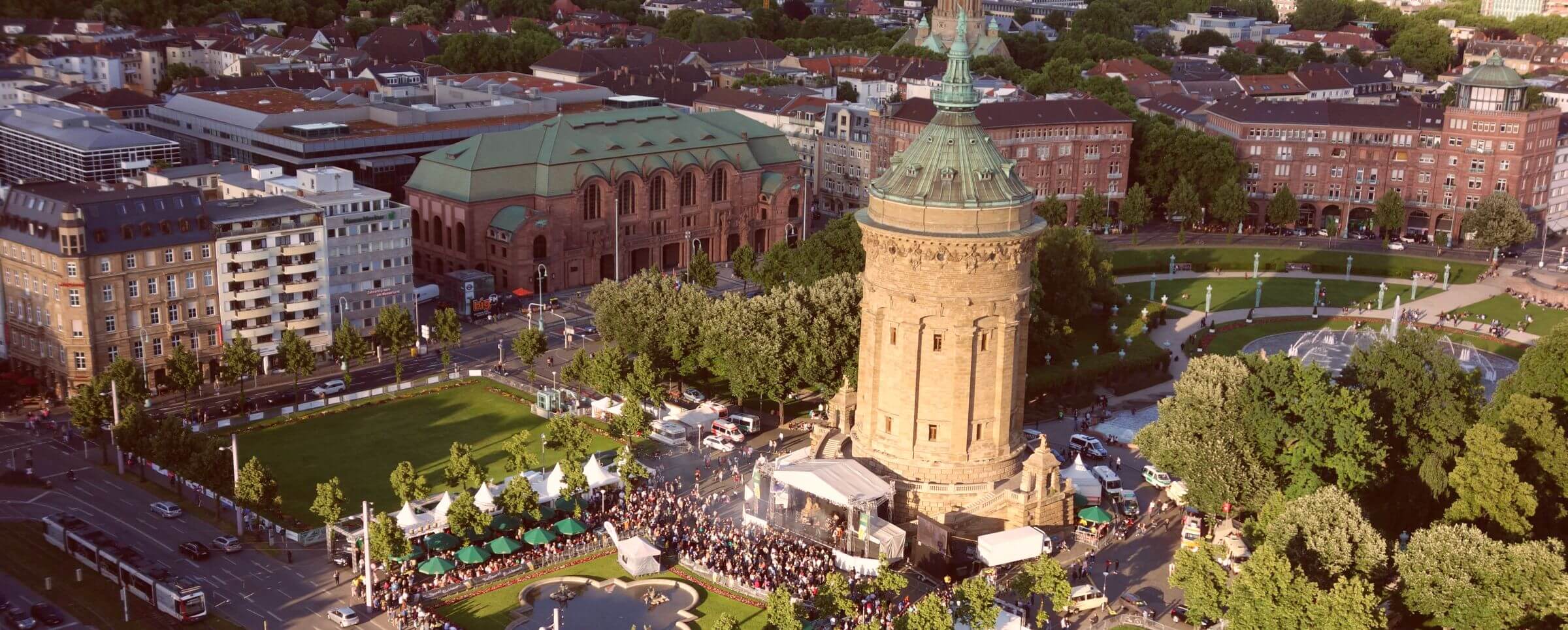 Copyright: Gundolf Frost - Best Blue Mode GmbH
9th EUROPEAN CONFERENCE ON SUSTAINABLE CITIES & TOWNS: Mannheim2020
30 September - 02 October 2020
Online
Thank you for committing to take transformation forward!

Thank you for joining the Mannheim2020 conference. We are so grateful to the speakers, organisers, partners and participants who ensured that the event was a success. You have showcased how we can bolster transformative action even in the face of difficult circumstances.
Mannheim2020 catalysed a number of transformative actions. Most notably, on 1 October, we presented the "Mannheim Message", the local response to the EU Green Deal, to the European Commission. This conference may be over, but our message for solidarity, core systemic changes and key policy shifts are critically relevant. Endorse the Message and join the Mannheim process.

Endorse the Mannheim Message Find out more

3 DAYS 1500+ PARTICIPANTS 150+ SPEAKERS
Speakers
Dr. Peter Kurz
Mayor, Mannheim (Germany)
Rita Schwarzelühr-Sutter
Parliamentary State Secretary of the Federal Ministry for the Environment, Nature Protection and Nuclear Safety (Germany)
Bernice Notenboom
Polar explorer; Climate journalist; Filmmaker
Diederik Samsom
Head of Cabinet of Frans Timmermans, Vice-President of the European Commission
Winfried Kretschmann MdL
Minister-President, Head of the State Government Baden-Württemberg (Germany)
Laurence Tubiana
CEO, European Climate Foundation
Prof. Tim Jackson
Director Centre for the Understanding of Sustainable Prosperity, Professor of Sustainable Development, University of Surrey (UK)
Lilyana Pavlova
Vice-President, European Investment Bank (EIB)
Prof. Dr. Dirk Messner
President of the German Environment Agency (Germany)
Anne Katrin Bohle
State Secretary of the Federal Ministry for the Interior, Building and Community (Germany)
Apostolos Tzitzikostas
President of the European Committee of the Regions
Joaquim Oliviera Martins
Deputy Director, OECD Centre for Entrepreneurship, SMEs, Regions and Cities
Matthew Baldwin
Deputy Director General, DG MOVE; EU Coordinator for Road Safety & Sustainable Mobility
Alejandro Gómez Gil
Energy Expert, València Climate and Energy (Spain)
Alexander Boto
General Manager, Ihobe – Basque Government
Ana Sanchis Huertas
Senior Researcher International R&D&i, Valencia Institute of Building (IVE)
Ana Oregi
Deputy Mayor of Vitoria-Gasteiz (Basque Country)
Anders Wijkman
Chairman, Climate-KIC Governing Board
Anna Lupi
Legal and Policy Officer, DG GROW, European Commission
Dr. techn. Anna-Vera Deinhammer
Program Leader, DoTank Circular City 2020-2030, City of Vienna (Austria)
Anne-Marie Larsen
Project Manager, City of Copenhagen (Denmark)
Anuela Ristani
Deputy Mayor, Tirana (Albania)
Ashima Sukhdev
Government & Cities Programme Lead, Ellen MacArthur Foundation
Attila Katona
PhD Researcher, Central European University
Aziza Akhmouch
Head of Division, Cities, Urban Policies and Sustainable Development, OECD
Caroline Bird
Chair, Bristol Energy Network CIC
César Aliaga Baquero
Head of Waste Recycling and Recovery Unit, ITENE (Packaging Institute)
Cheryl Jones Fur
Deputy Lord Mayor, Växjö (Sweden)
Claudia Fusco
Head of Unit DG Environment, European Commission
Cyril Gouiffès
Head of Social Impact, Equity Investments, European Investment Fund
Dr. Daniel Lückerath
Project Manager, Fraunhofer IAIS
Dario Nardella
Mayor, Florence (Italy)
David Salomonsen
Head of Special Taskforce on Social Dumping, CSR-unit, Copenhagen Municipality (Denmark)
Dr. David Christensen
Project Manager, BOFA
Dora Almassy, Ph.D.
Researcher, Department of Environmental Sciences and Policy, Central European University
Dr. Douglas Salt
Scientific Computing Specialist, The James Hutton Institute
Elin Seveholt
Advisor Sustainable Procurement, Stavanger Municipality (Norway)
Dr. Elisa Bevilacqua
Head of Department, Sustainable Finance, European Association of Co-operative Banks
Erica Albarello
European Project Manager, City of Torino and Torino Urban Lab (Italy)
Erion Veliaj
Mayor, Tirana (Albania)
Espen D. Nicolaysen
Head of Section, Sustainable Public Procurement, City of Oslo (Norway)
Felicitas Kubala
Deputy Mayor for Environment and Citizens' Services, Mannheim (Germany)
Felix Finkbeiner
Founder, Plant-for-the-Planet Foundation; PhD researcher, ETH Zurich
Filipe Araújo
Vice-Mayor, Porto (Portugal)
Filippo Antonio Capizzi
Energy Consultant, Greenfish SA
Franz Untersteller MdL
Minister of the Environment, Climate Protection and the Energy Sector Baden-Württemberg (Germany)
Gillian Dick
Spatial Planning Manager – Research & Development, Glasgow City Council (UK)
Gorka Urtaran
Mayor, Vitoria-Gasteiz (Basque Country)
Dr. Hakan Lucius
Head of Stakeholder Engagement, Transparency and Civil Society, European Investment Bank
Hanna Szemző
Managing Director, Metropolitan Research Institute Budapest
Harriët Tiemens
Alderman of the Municipality of Nijmegen (Netherlands)
Dr. Heather Grabbe
Director of the Open Society European Policy Institute, Brussels
Henk Kok
Senior Strategic Advisor, City of Eindhoven (Netherlands)
Igor Kos
Advisor, WCYCLE Institute Maribor (Slovenia)
Iva Bedenko
Architect, Office of Strategic Planning, City of Zagreb (Croatia)
Dr. J. Gary Polhill
Senior Research Scientist, The James Hutton Institute
Dr. Jana Deforche
EU Funding Advisor for Energy and Environment, City of Antwerp (Belgium)
Janet Sanz
Deputy Mayor for Ecology, Urban Planning and Mobility, City of Barcelona
Jill Adams
Mannheim2020 Facilitator, Prospex
Johan Sandström
Head of Ecological Development, City of Umeå (Sweden)
Johannes Riegler
Stakeholder Involvement Officer, JPI Urban Europe
Jonas Byström
Lead Engineer, European Investment Bank
Jonas Bylund
JPI Urban Europe Management Board
José Sá Fernandes
Deputy Mayor of Lisbon (Portugal), European Green Capital 2020
Joshua Thumim
Head of Research and Analysis, Centre for Sustainable Energy (CSE)
Juan Espadas Cejas
Mayor of Seville (Spain)
Juan Carlos Escudero
Head of Innovation, Environmental Studies Centre, Vitoria-Gasteiz City Council (Basque Country)
Judit Boros
PhD student, Central European University (CEU)
Julián Torralba
EU Project Manager, LAS NAVES
Dr. Karsten Sach
Director General, German Ministry for the Environment, Nature Conservation and Nuclear Safety (BMU)
Katelien van der Berge
Project Coordinator, RUGGEDISED, City of Rotterdam (Netherlands)
Katerina Havrlant
Marketing Director, Grow with Google & Sustainability at Google
Kerstin Kleinhans
Environmental Engineer, Ghent University
Klaus Kellermann
Architect and Sustainability Specialist, Roskilde Municipality (Denmark)
Lasse P. N. Olsen
Mayor of Environment and Energy, Aalborg Municipality (Denmark)
Prof. Laszlo Pinter
Professor, Central European University (CEU)
Linda Somazembe
Climate Change Monitoring and Reporting Advisor, eThikwini Municipality (South Africa)
Luis Tejero
Coordinator of Climate Change Programs, Madrid City Council (Spain)
Dr. Luise Noring
PhD in Business Economics, CEO & founder of City Facilitators
Mai Muhammad
Energy Manager, Aberdeen City Council (Scotland)
Marc Barra
Ecologist, Paris Regional Agency for Biodiversity (France)
Dr. Marc Gramberger
Mannheim2020 Facilitator, Prospex
Maria Nikolopoulou
Member of the European Economic and Social Committee for Comisones Obreras Trade Union (Spain)
Maria Sangiuliano
Research Director and CEO, Smart Venice
María Jesús Muñoz Cachón
Climate Change Technician, Ihobe (Basque Country)
Mariangelina Evliati
Project Manager Electric Mobility, City of Stockholm (Sweden)
Mariusz Skiba
Deputy Mayor, Katowice (Poland)
Mark Taylor
Principal Conservation Officer, Regeneration Team, Sunderland City Council (UK)
Markus Duscha
Founder and CEO of the Fair Finance Institute (FaFIN)
Marte Mjøs Persen
Mayor of Bergen (Norway)
Martin W. W. Horn
President of ICLEI Europe, Lord Mayor of Freiburg (Germany)
Marvin Rees
Mayor, Bristol (UK)
Matej Drobež
Head of General Affairs Department, Municipality Zagorje ob Savi (Slovenia)
Mercè Corretja
General Director of Public Procurement, Government of Catalonia
Dr. Michaël Ghyoot
Project Leader, Rotor
Michael Glotz-Richter
Senior Project Manager Sustainable Mobility, Free Hanseatic City of Bremen (Germany)
Micheál Lyons
Manager Climate Action Unit, Cork City Council (Ireland)
Miia Jylhä
R&D Team Leader, Lounais-Suomen Jätehuolto
Minna Arve
Mayor, Turku (Finland)
Miquel Rodríguez Planas
Commissioner of the 2030 Agenda, Barcelona City Council (Spain)
Nina Sankovič
Head of Public Relations, Public Utility VOKA SNAGA
Nomusa Dube-Ncube
Member of the Executive Council, KwaZulu-Natal Municipality (South Africa)
Patrik Pizinger
Mayor, City of Chodov (Czechia)
Paulo Câmara
Governor, Pernambuco (Brazil)
Pekka Timonen
Mayor of Lahti (Finland), European Green Capital 2021
Dr. Rachel Aldred
Professor of Transport, University of Westminster
Rafał Trzaskowski
Mayor, Warsaw (Poland)
Raymond Johansen
Governing Mayor of Oslo (Norway)
Richard Lowe
Investment Programme Manager, Bristol City Council (UK)
Rik Thijs
Vice-Mayor, City of Eindhoven (Netherlands)
Roby Biwer
Member of the ENVE Commission, European Committee of the Regions
Rut Einarsdóttir
Board Member & Secretary, Icelandic National Youth Council; and Youth Delegate of the Congress of the Council of Europe
Sandra Gizdulich
Urban Policy & Programme Expert, Agency for the Territorial Cohesion
Sandy Tung
Programme Manager for 'Sharing Cities', Greater London Authority (UK)
Sara Maia
Research Assistant, Central European University
Sergio Humberto Graf Montero
Secretary of State, Government of the State of Jalisco (Mexico)
Sihle Zikalala
Premier, KwaZulu-Natal (South Africa)
Dr. Arch. Simona d'Oca
Project Coordinator and Researcher, Huygen Engineers and Consultants
Stefan Goemaere
Community worker, Samenlevingsopbouw West Flanders
Susan Aitken
Leader of Glasgow City Council (Scotland)
Dr. Susanna Albertini
Partner and Senior Communication Expert, FVA New Media Research
Thomas Kastrup-Larsen
Lord Mayor, Aalborg Municipality (Denmark)
Tim Ash Vie
Director, Under2 Coalition Secretariat, The Climate Group
Tine Heyse
Deputy Mayor, Ghent (Belgium)
Tom Meeuws
Vice-Mayor, Antwerp (Belgium)
Drs. Ton Verhoeven
Policy Advisor, Municipality of Nijmegen (Netherlands)
Trevor Graham
Director, UrbanIsland
Véronique Willems
Secretary General, SME United
Dr. Wander Jager
Associate Professor, University of Groningen
Wolfgang Teubner
Regional Director Europe, ICLEI – Local Governments for Sustainability
Yachika Reddy
Project Manager, Sustainable Energy Africa (SEA)
Yolanda Morant
Technical engineer, Valencia City Council (Spain)
Yvon Slingenberg
Director, International Mainstreaming and Policy Coordination, (DG) Climate Action, European Commission
Zoran Jelic
Global Project Coordinator, ImPPPact Global Alliance
Zsófia Ábrahám
Software Engineer for Naturvation, Central European University
Sign-up for the #Mannheim2020 news update!
Never miss any news, announcements and the many opportunities for you to contribute, share your experiences, show off your innovations and actively shape the discussion.